---
Irene Stein Klalo spent the war years working for the General Motors Eastern Aircraft plant in Linden, New Jersey. Despite plans to go to college, the patriotic mood of the country encouraged her to work for the war effort right after graduation. Her parents were extremely active in union organization during this time, and many factory workers joined the union as well.
Her time at the factory involved metal filing, stamping machinery parts, working a drill press,
and packing rivets for airplanes. The women who chose to work at these plants received little
or no formal training. Long, grueling hours, in addition to threats of sexual harassment, did not
always make the experience a pleasant one, but making fighter planes made the women feel
as if they were making a difference in the outcome of the war. Work at the factory continued
until the war ended and the workers were immediately laid off.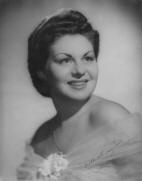 IRENE KLALO